Serving Upstate NY—VT—MA • For selections & prices, CALL or EMAIL US
Zanella Floors of Wood™
Hand-hewn Distressed Planks
About the Company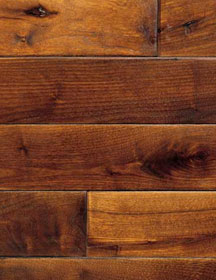 The creation of a magnificent Old World floor is a labor of love and shows a rare dedication to the artistry of hand-craftsmanship. It is Zanella's generations-old legacy to take customer expectations and carefully craft them into something memorable and without equal.
All of their floors are a product of nature, with each board individually hand-hewn and bench-finished to recreate the patina of time. From the subtle tones of nature to brilliant explosions of color, Zanella floors provide an aura of natural charm and elegance that will turn any ordinary room into a timeless masterpiece.
The traditions that inspired the Zanella line are faithfully carried through the entire production process. From rough lumber to the finished product, the hands of Zanella artisans control every aspect. They do not mass-produce their floors; rather, each floor is individually made to order — equally rewarding to craftsman and customer alike!
Wood Flooring Products
Zanella offers an extensive line of distressed flooring, where each individual piece of wood is hand-crafted to bring out its own inherent personality and create the impression of age. Their craftsmen place high importance on selecting timber for superior character, grain, and coloring characteristics of their products. From the remarkable surface preparation to artfully pillowed edges and ends, each of their floors is antiqued entirely by hand with an exceptional attention to detail.
Every board goes through a 21-step prefinishing process, ensuring a beautiful wood surface that preserves the wood's distinct tones and marks. The appearance of every Zanella floor is protected by a durable urethane finish that provides years of faithful service with minimal maintenance.
Long lengths and standard widths of 3″, 4″, 5″, and 6″ provide a variety of design possibilities. Some of the species they offer include:
Hickory
Pecan
Walnut
White Oak (plainsawn or rift & quartered)
Whether your new floor requires a simple base shoe or a complete custom staircase, a matching Zanella accessory is available, including reducers, nosings, stair parts, base shoes, and miscellaneous other parts. The unique character and finish of each Zanella floor is applied to the matching accessories. Zanella also offers distinctive pegging options for their flooring. Both round and square pegging is available, either pre-installed in the plank or shipped loose.
If you are looking to make a truly unique statement with your choice in flooring, Zanella is your answer!
---
Visit the Zanella Floors website:
www.zanellafloors.com