Serving Upstate NY—VT—MA • For selections & prices, CALL or EMAIL US
Oshkosh Designs®
Decorative Hardwood Flooring Borders and Medallions
About the Company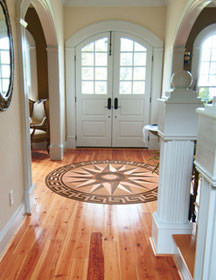 Oshkosh Designs has over 25 years of expertise crafting exquisite hardwood medallions, wood floor borders, and parquet flooring for some the most prestigious homes and buildings around the world. Whether it's a custom wood medallion with granite or marble stone inlay, or a wood border made from exotic Brazilian cherry and wenge, the company's talented team of designers and craftsman will turn your vision for a beautiful hardwood floor into reality.
Oshkosh Designs' decorative inlays provide homeowners with a distinctive floor design element for new construction as well as for existing floors and restoration projects. The upscale inlays are available in multiple species of domestic and exotic hardwoods (the example at the right is composed of Brazilian cherry, maple, red oak, and walnut). Inlay compositions are created on-site at Oshkosh Designs and shipped intact, making high-quality inlays readily available, simplifying the inlay process, and reducing installation time.
Wood Flooring Products
Oshkosh medallions can add splendid visual interest to your foyer, stair landing, hallway, or dining area. Their selections include a wide range of different sizes, with patterns ranging from nautical motifs to intricate geometrical designs. From square to oval to uniquely distinct star shapes, your selection of a medallion will accentuate your hardwood floor in the most eye-catching way imaginable.
Oshkosh borders add balance and elegance to the finest homes. Completely assembled borders are available unfinished for sanding and finishing on the job site or prefinished and sized to the thickness of your prefinished flooring.
---
Visit the Oshkosh Designs website:
oshkoshdesigns.com