Serving Upstate NY—VT—MA • For selections & prices, CALL or EMAIL US
Junckers
Creating Exceptional Spaces
About the Company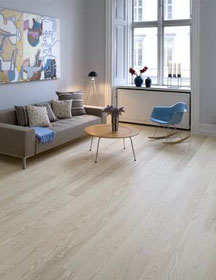 Europe's largest manufacturer of solid hardwood floors and Denmark's largest timber company, Junckers Industrier A/S employes more than 1,200 people worldwide.
Junckers was founded in 1930 by Flemming Juncker, a visionary Danish Master of Forestry whose methods of forestry management were way ahead of his time. Through Flemming's efforts, Junckers became one of the first companies ever to practice sustained-yield forestry, a reforestation method that ensures the continued growth of one of our most valuable resources — our forests.
The young forester knew that the economic viability of the Danish forests was in a poor state. It was necessary to find new ways of using much of the wood that had so far been used as firewood or left to perish in the forests. For that reason he believed that each and every part of the tree should be utilized with no waste — a practice that has worldwide acceptance today.
For close to a century, Junckers has taken pride in crafting the finest natural and renewable materials into prestigious, hard-wearing floors.
Wood Flooring Products
Junckers hardwood floors have become the natural choice of leading specifiers and interior designers all over the world, and you will find them in homes, sports and dance venues, and in commercial spaces. The quality of the products is widely appreciated and the list of successful projects confirms that Junckers meets the most demanding technical specifications for high-traffic flooring.
The company's solid wooden floors are made to last and look beautiful through years of daily use. This is the reason they bear all the hallmarks of exceptional craftsmanship, employing unique manufacturing techniques synonymous only with Junckers.
Some of the species they offer include:
Ash
Beech
Brazilian Cherry
Maple
Merbau
Red Oak
White Oak
---
Visit the Junckers website:
www.junckers.com