Serving Upstate NY—VT—MA • For selections & prices, CALL or EMAIL US
Mercier Wood Flooring
Innovation, Tradition, Perfection
About the Company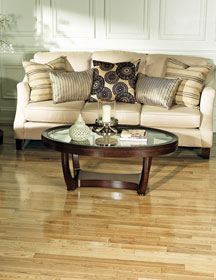 Mercier Wood Flooring first stirred consumer interest in the 1980s by becoming an industry leader in offering sanded and prefinished boards under the name "Les Planchers Mercier Inc."
From humble beginnings in 1980 in the workshop of company founder Marcel Mercier in Montmagny, Québec, the seeds of innovation were planted to revolutionize the finishing process for hardwood flooring. Using his 25 years of experience gained as a cabinetmaker, Marcel worked tirelessly to create a durable, factory-finished wood floor finish that could withstand generations of footsteps.
The result? Mercier Generations, which has the clearest look in the industry and, in tests, demonstrates a superior resistance to abrasion. The finish creates a soft, clear, smooth surface, letting all the beauty of the wood shine through and making it look more like furniture than flooring. And unlike other industrial finishes, it does not add any texture to the wood.
Wood Flooring Products
With 13 wood species, 74 rich colors, and beautiful eco-friendly finishes, Mercier wood floors offer thousands of possibilities, limited only by your imagination. For a natural, rustic, or more modern look, Mercier offers a vast selection of wood floors in a variety of colors, textures, widths, and finishes. Whether you choose products from their Design+, Exotic, or Nature collections, Mercier lets you create a unique and authentic look that makes a perfect match for your home's décor.
Some of the species they offer include:
American Cherry
American Walnut
Brazilian Cherry
Hard Maple
Red Oak
Santos Mahogany
Tigerwood
White Ash
White Oak
Yellow Birch
---
Visit the Mercier Wood Flooring website:
www.mercier-wood-flooring.com