Serving Upstate NY—VT—MA • For selections & prices, CALL or EMAIL US
County Floors Online
Merchant Policy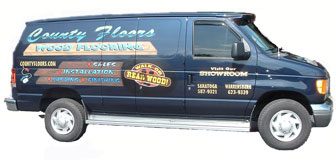 ---
Customer Privacy
We are committed to preserving the trust of our visitors in our online business practices. County Floors will never willfully sell, trade, rent, or otherwise transmit any personally identifiable information about customers to any third party. Personal information such as email addresses and the like, and any other information that is collected by County Floors, will never be shared with anyone or any other group or organization. Any and all information collected will be treated with the utmost confidentiality. We respect your privacy at all times.
---
Customer Security
Protecting our cusomers' confidential information is a priority for us. When you place an order online with County Floors, we collect your name, contact information, billing address and shipping addresses, credit card information, and email address, which are automatically transferred via "secure socket layer" (SSL) technology. This information is encrypted and is not accessible to anyone else online. We use this information to fulfill your order and to communicate with you about it. Your order is then processed internally; no one but our order processors will have access to your information. We do not sell, trade, or rent your personal information to others. By using our website, you consent to the collection and use of this information by us for processing and shipping purposes only.
---
Service Area
County Floors limits its wood flooring sales and service activities to the greater Albany capital district region of upstate New York and surrounding areas, including Vermont and western Massachusetts. To maintain our dedication to superior customer service, County Floors does not sell wood flooring products to regions outside the NY–VT–MA area. See our Service Areas page for further details.
---
Payment Methods
Our shopping cart system accepts payment using Visa or MasterCard. If you prefer not to pay for your purchase by credit card, we also accept money orders and personal or corporate checks. With this method of payment, you must call in your order over the phone (518-623-9339). In addition, the check must clear with our bank before we can ship your order. All prices listed online are in U.S. dollars. If items you order are out of stock or unavailable, we will notify you by phone and/or email, and your payment will not be processed.
---
Sales Tax
We are required to collect sales tax of 7% on all orders being shipped to customers in New York State. This tax is calculated on the total of merchandise and any shipping/handling charges. However, certain customers may be exempted from this tax by completing and submitting a "Capital Improvement" form. Contact County Floors to obtain a copy of this form.
---
Shipping & Handling Charges
Our online checkout system calculates an estimate of shipping and handling charges for your purchase. Depending on the size of the order, distance to be shipped, and other factors, that estimated amount may be reduced or increased. We will contact you directly if there are additional shipping charges due. If the estimate is more than the total amount due for shipping, we will chargeback the difference to your credit card, or issue you a refund check.
---
Quality Guarantee
We are confident that our customers will find the quality of our wood floor products to be second to none. However, responsibility lies with the customer to verify the contents of the order at time of delivery. Product claims must be addressed prior to installation.
---
Product Delivery
As we are not the shipping company used for delivery, certain unexpected logistical occurrences can unfortunately take place which are beyond either our or our customers' control. In the event of such an instance, we will make every effort to rectify the problem in the most immediate time frame. We make it our policy to inform the customer of any delays in delivery time as it is made apparent to us. Quality and quantity of orders are checked at the time of shipping. Responsibility lies with the customer to verify the contents of the order and its condition at the time of delivery. County Floors will act as mediator between the shipper and the customer, as responsibility for in-transit damages lies with the independent shipping company.
---
Returns
The customer is responsible for all return shipping charges, unless the product has arrived in a damaged condition. There is a restocking fee of up to 40% for undamaged products that are returned; for special orders, the restocking fee may be higher. Unless approved by County Floors, products refused are treated as returns, and as such are subject to our restocking fee. Requests for returns must be made within 5 days of reciept of shipment.