Serving Upstate NY—VT—MA • For selections & prices, CALL or EMAIL US
Bois Chamois
Vintage Hardwood Flooring
About the Company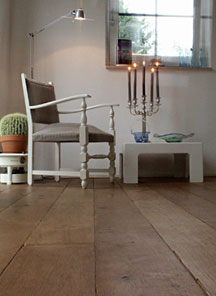 Following a time-honored tradition, for centuries European craftsman have oiled and hand-buffed fine hardwoods with the soft cloth of the chamois antelope. That tradition lives on with Bois Chamois Vintage Hardwood Flooring.
This company specializes in creating some of the world's finest flooring, offering select European imported hardwood to the North American market, backed up by a commitment to the highest standards of production and customer service. Their high-quality flooring is found not only in residential living spaces, but also in restaurants, bars, retail outlets, and other large commercial spaces all over the world.
Wood Flooring Products
Bois Chamois flooring is distressed to provide a convincing, naturally worn appearance. Scarring and surface marking is produced without repetition, and edges are irregular and worn. Bois Chamois lets you step back in time while enjoying the benefits of today's precision milling and perfect tongue-and-groove fit.
Milled from French white oak, Bois Chamois flooring is available in a popular 7″-wide plank face size, as well as in custom widths. Kiln-dried for added dimensional stability and fumed to create a rich, natural tone throughout the thickness of each profile, the wood comes in a variety of hand-crafted colors. Each is rubbed deep into the wood and finished with a light coat of wax to "set" color and prevent moisture absorption. Unfinished natural French oak is also available, as well as planks with an oil finish.
---
Visit the Bois Chamois website:
www.boischamois.com