Serving Upstate NY—VT—MA • For selections & prices, CALL or EMAIL US
Wood Floor Sales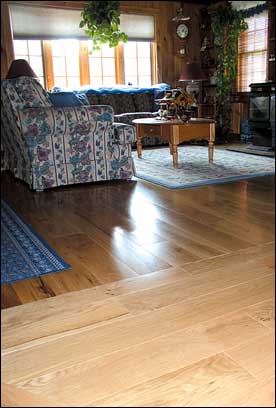 Species from A to Z
County Floors is a manufacturer and distributor of fine hardwood flooring from around the world. We have been servicing customers for over 30 years.
Custom orders are our specialty!
Make County Floors
Your One-stop Shop
for Hardwood Flooring
From Ash to Zebrawood, we have the widest selection of wood flooring available just about anywhere. We carry nearly every species and grade of wood used for flooring, whether plank or engineered, imported or domestic, finished or unfinished. And we sell almost any thickness, length, width, cut, color, and brand of flooring you can think of.
So give us a call for all your wood flooring needs — we carry most anything you might want, including rare and hard-to-find species and grades of wood. In addition, we offer antique and distressed-style flooring for special flooring projects.
County Floors Brand —
the Best of the Best
In addition to carrying top-quality prefinished and engineered flooring from such well-known name brands as Green River, IndusParquet, and Mullican, we also sell a line of popular unfinished wood floor planking that is manufactured right here in upstate New York. All of our flooring is precision-cut and made to order, and is usually available for delivery in 1 to 2 weeks.
The County Floors Advantage
Choosing the County Floors brand name has many benefits. Because orders are milled to the customer's specifications, the lengths, widths, and thicknesses of our wood are extremely precise. Little or no sanding is needed after installation, saving countless hours of tedious labor (or the expense of hiring a professional to do the work). We can also offer much longer lengths of wood than most other manufacturers, sometimes exceeding 14 feet — which saves on installation time! Finally, and most importantly, our prices are very competitive, because we offer our flooring products factory-direct to our customers.
We Deliver Nearly Anywhere
However you choose to buy from us, we can deliver your choice of wood flooring just about anywhere in the continental United States and Canada.
If your home or business is located in the upstate capital district region of Albany, New York, then our showroom in Saratoga Springs is a very short drive away (open by appointment only). Or you can call us to inquire about having samples sent to you.
Finally, our website is full of technical information, design ideas, and product examples. To see what we have in stock, browse our extensive and informative online store.