Serving Upstate NY—VT—MA • For selections & prices, CALL or EMAIL US
About Wood Flooring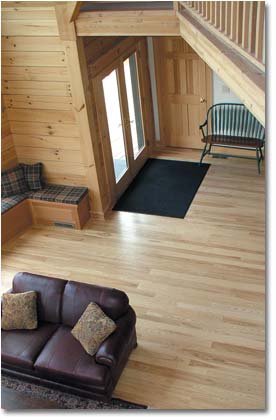 County Floors carries a wide selection of wood flooring products and species, of varying types, sizes, and finishes, from many top-name manufacturers. Wood flooring can be classified according to whether the species is a hardwood or softwood, domestic or exotic (imported), and prefinished or unfinished.
Different species may be further distinguished by such factors as: type (solid or engineered); style (strip, plank, or parquet); width, length, and thickness of the strip or plank; natural color of the wood; figuring; cut; grade; and, if it is pre-finished, the kind and color of stain that has been applied.
Other factors to be considered when choosing wood for a floor include:
hardness of the species
dimensional stability of the wood
climactic conditions that it will be subject to
floor area to be covered
kind of traffic it will take
relative cost of the wood
In other words, choosing a wood flooring product that is right for your home or business is not necessarily going to be a simple decision! To help you get started, in this section of the site we have provided some comprehensive information on wood floor species and a page on the Janka hardness scale, as well as a handy glossary of wood flooring terms. You can also learn about adding accent to a floor with borders and medallions and completing the look & feel of your home with matching molding and treads.
For additional information, please check out our listing of online resources & links.