Serving Upstate NY—VT—MA • For selections & prices, CALL or EMAIL US
Harris Wood®
Over a Century of Expertise
About the Company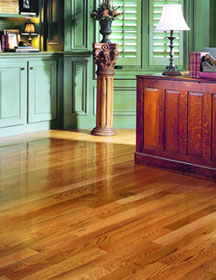 Founded in 1898 by William Pond Harris in Johnson City, TN, Harris Tarkett has built its success on history, diversity, and quality.
The company began with a very specific mission: to handcraft persimmon golf club shafts. Over the years, in addition to flooring, the company crafted cannon ramrods, broom handles, and U.S. Army tent pins.
Yet it was always the quality-oriented, vibrant hardwood flooring market that drew the interest of the Harris family. Thus, out of these early turnings, the company has evolved into one of the world's premier hardwood flooring manufacturers.
Manufactured from carefully selected domestic and imported species, Harris Wood floors are made only from timber harvested from sustained forests that are managed through strict preservation and replenishment programs.
Wood Flooring Products
Whether it's for your home, a rustic wood cabin, a yoga studio, or a trendy pad in the city, there's nothing like a quality wood floor to add that "something extra" to the atmosphere.
But it's more than just a matter of aesthetics. When you factor in the environment, health benefits, ease of maintenance, durability, and cost, Harris Wood engineered floors are one of the best investments you can make.
The species represented in their collections of solid and engineered flooring include:
American Cherry
Hickory
Maple
Red Oak
Rustic Pecan
Walnut
Yellow Birch
These popular hardwood flooring options come in a variety of lengths, widths, colors, and finishes. In addition, Harris Wood manufactures complementing premium real wood moldings and transitions to coordinate with all their floors.
---
Visit the Harris Wood website:
www.harriswoodfloors.com