Serving Upstate NY—VT—MA • For selections & prices, CALL or EMAIL US
Chelsea Plank Flooring®
Impressive Style — Enduring Value
About the Company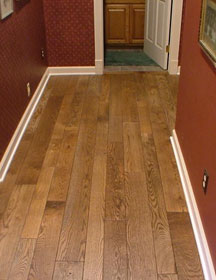 Made in the U.S.A., Chelsea Plank Flooring is the brand name of a product manufactured by Frame Hardwoods in Chelsea, Michigan.
With facilities located in Chelsea, Michigan, Frame Hardwoods has continuously manufactured factory-finished ¾″ solid plank flooring longer than any other manufacturer. From forest to finished product, they add value that is seldom seen from a flooring manufacturer:
Family-owned business with skilled, well-trained employees
Fully integrated and climate-controlled manufacturing facilities located in one location
Complete moisture content control and inspection
Top-notch quality control systems
Wood Flooring Products
Chelsea Plank offers a variety of grades, stains, and finishes in the following species:
Northern White Ash: A durable and dimensionally stable hardwood used in the manufacture of baseball bats, hockey sticks, and furniture. With an oak-like appearance and a hardness factor greater than red oak, ash is an ideal hardwood for plank flooring.
Northern Hard Maple: Wood with a smooth, light grain appearance that furniture designers often complement with walnut and cherry. Dense and hard, northern hard maple is often used in the manufacture of butcher blocks and machine pads, thus making it an exceptional species for hardwood plank flooring.
Northern Red Oak: The most common species of hardwood flooring. In the manufacture of this flooring, Chelsea Plank uses only oak grown in southern Michigan and northern Indiana, where it grows slower than southern red oak and thus offers tighter grain and a brighter color.
Northern Hickory: Known for its extreme hardness, hickory is typically harvested in the winter months to attain the best color. Traditionally relegated to utilitarian products such as axe handles and fire wood, hickory is now commonly used in kitchen cabinets, fine furniture and flooring due to its beautiful grain characteristics. The color of natural hickory ranges from snow-white to deep amber.
Northern White Oak: Harvested from a region stretching from central Indiana through central Wisconsin, this slow-growing oak offers fine grain and increased hardness over southern white oak. Traditionally used for wine barrels, ship decks, and semi trailer flooring, northern white oak makes for a beautiful, evenly colored floor that works with virtually any décor.
Northern Black Walnut: A rare and expensive North American hardwood known for its beautiful grain, exotic burls, and fine figuring. Although northern black walnut plank flooring is exceptionally beautiful, it is also relatively soft, and great care should be taken with regard to high heels and hard objects.
Northern Black Cherry: Known for its exceptional color and grain characteristics, northern black cherry is used extensively in fine furniture. However, it is even softer than northern black walnut.
---
Visit the Chelsea Plank Flooring website:
www.plankflooring.com