---
Wood Flooring
Manufacturers:
Appalachian Flooring Flooring Ltd
Prefinished Wood Floors
About the Company
Appalachian Flooring has a pretty simple philosophy when it comes to their customers: give them top-quality solid hardwood floors at the lowest possible cost. To quote them directly "we manufacture the finest prefinished hardwood floors, one square foot at a time."
Appalachian Flooring Ltd. is based out of Cowansville, Quebec, Canada, and covers a sales area ranging from the United States and Canada to Ireland, Mexico, and the United KIngdom. Their products come from the vast Appalachian mountain range which spans from Newfoundland in Canada to Alabama in America.
Appalachian uses the finest, choice grade hardwoods for their flooring products and employs master craftsmen who operate cutting-edge equipment. The result is a hightened attention to quality control. This transfers over to the customer in the end — they get to enjoy a durable and beautiful prefinished floor for years to come.
Wood Flooring Products
Appalachian's hardwood flooring comes 25/32" thick with a micro-beveled edge, prefinished with an UV-cured polyurethane coat with aluminum oxide. Several stain options are avaiable in four varying grades.
Furthermore, the company shows a commitment to their products and customers by providing a 25-year limited residential warranty against wear-through.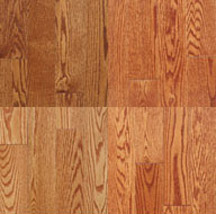 [Four Stain Options in Red Oak; images and descriptions from Appalachian Flooring's Web site]
Some of the species they offer include:
American Black Cherry
American Black Walnut
Hard Maple
Red Oak
Yellow Birch