---
Wood Flooring
Manufacturers:
Columbia Flooring
Always Beautiful
About the Company
Whether you're looking for the longevity and beauty found in solid oak flooring, or the rich textures and easy maintenance of engineered hardwood, you'll love what Columbia Flooring can do for your home.
Columbia's 40 years of experience, engineering, and expertise have produced a wide selection of solid and engineered wood floors suitable for just about every room and every taste. And the beauty and versatility of Columbia Flooring are matched only by the simplicity of its care. Upkeep is wonderfully easy — no waxing or buffing is required. Simply sweep or dust and maintain with gentle Columbia Floor Cleaner. You'll spend more time enjoying family, friends, and the beauty of your floor...and less time maintaining it!
Choose your style from their eye-catching array of woods, finishes, and features. No matter what type or style of Columbia flooring you choose, you'll be selecting a floor with easy installation and maintenance, and one of the industry's most durable finishes.
Wood Flooring Products
Columbia's solid hardwood flooring offers a rich, elegant appearance and durable performance. It has a rich, grainy luster that has come to define the look of a hardwood floor, and it can be sanded and re-stained multiple times.
Their engineered (laminate) flooring is easy to install — perfect for the "do-it-yourselfer"! — and it is dependable, and durable. This type of flooring is made from multiple cross-plies of hardwood with a furniture-quality top layer, making it more stable and less susceptible to moisture.
Both product types come in a variety of styles to enhance any decor. And they are protected by a DiamondPlate™ aluminum oxide finish that makes the floor simple to care for and keeps it looking beautiful longer.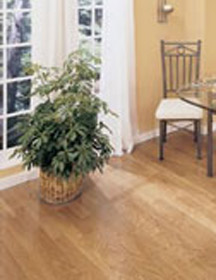 [Carrollton Oak ¾" solid with Natural finish; from the Columbia Flooring Web site]
In addition to a wide selection of oaks with various finishes, Columbia also carries other popular hardwood species such as maple, cherry and pecan, in both solid and engineered hardwoods. Their "Out of Africa" collections include:
Cedar
African Cherry
Pearwood
Rosewood
African Walnut
Columbia Flooring also provides a full line of coordinated transition pieces to complete your flooring installation, such as T moldings, wall bases, reducers, quarter rounds, and stair noses.
The possibilities for bringing the warmth of wood into your home are endless. Welcome your guests with a one-of-a-kind exotic wood foyer, or magically unify an open great room with a warm oak surface, Create a rich backfrop for an heirloom area rug in the dining room, or trust an easy-to-maintain wood floor in the kitchen.
Then, sit back and appreciate the beauty and ease of care that Columbia hardwood floors can bring to your life.