Serving Upstate NY—VT—MA • For selections & prices, CALL or EMAIL US
Aged Woods®
Reclaimed & Remilled Antique Flooring
About the Company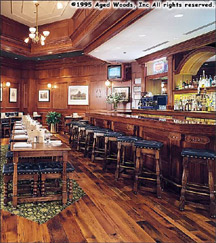 Founded by Donald Sprenkle, Jr., Aged Woods has provided customers with "Eco-friendly floors since 1983." The company was built around the premise of offering quality recycled flooring through modern marketing techniques.
In November of 2001, the company launched their Yesteryear division. The intent was to expand into the non-recycled wood flooring products market while continuing to promote the Aged Woods reclaimed hardwood brand that customers have grown to desire in their homes.
Aged Woods' flooring is sold throughout the world. Internationally, the company's sales extend to locations in Israel, Singapore, England, Korea, Taiwan and Hong Kong. While their products have traditionally been used in residential applications, their fastest growing market is commercial hardwood flooring.
Wood Flooring Products
The majority of the reclaimed and remilled flooring options from Aged Woods are retrieved from agricultural out-buildings (e.g., old weathered barns), which have stood for up to 200 years. Such recycled wood flooring is the sustainable choice to add unique and authentic rustic character to residences, retail spaces, restaurants, country clubs, etc. Some other planks are made up of virgin forest trees that were alive when European settlers first arrived — such age ensuring a tighter grain in the end product.
The company divides their Aged Woods planks into Antique and Antique Distressed product lines to denote the varying degrees of weathering that the flooring has achieved over its lifetime. With their Yesteryear® brand line, the company offers flooring milled from specially selected new-growth wood available in wide widths and long lengths that are not usually possible with their reclaimed woods.
Some of the species they offer in the Aged Woods line include:
Antique American Cherry
Antique American Chestnut
Antique Beech
Antique Heartpine
Antique Hickory
Antique Maple
Antique Oak
Antique Walnut
Antique Distressed White Pine
Antique Distressed Yellow Pine
Some of the species offered in the Yesteryear line include:
Cherry
Hickory
Red Oak
Walnut
White Oak
White Pine
---
Visit the Aged Woods website:
www.agedwoods.com