Serving Upstate NY—VT—MA • For selections & prices, CALL or EMAIL US
USFloors®
Eco-friendly Cork, Bamboo, and Sustainable Oak Flooring
About the Company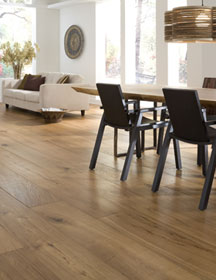 Founded and incorporated in 2001, USFloors is an importer/marketer of cork and bamboo flooring as well as other flooring products. In 2004, the company acquired Natural Cork and gained a leadership position as the largest cork flooring provider in the United States.
Located in the foothills of the Appalachian Mountains, in Dalton, Georgia, USFloors has grown to become the leading importer/producer of sustainable, eco-friendly floors, including cork, bamboo, FSC-certified hardwood, and other unique and sustainable floors. In fact, USFloors is the only supplier of cork and bamboo flooring with manufacturing facilities operating in the United States. Moreover, they provide lifetime residential wear and structure warranties for the Natural Cork® and Natural Bamboo® products in its Eco-Floors Collection.
In addition to its 100,000 sq. ft. Dalton facility, USFloors maintains over 125,000 sq. ft. in additional distribution facilities in Augusta, GA, and Chino, CA.
Wood Flooring Products
From the distinctive to the exotic, USFloors' unique and sustainable flooring offerings include:
Natural Cork: No other floor covering offers the benefits and distinctive look of natural cork. It's the perfect marriage of soft surface and hard surface — and made from one of nature's most sustainable resources.
Natural Bamboo: Takes what you think you know about bamboo — and turn it on its head. With its beautiful stains and artisan hand scrapes, ultra-durable strand-woven bamboo is harder than oak and an environmentally responsible floor.
Castle Combe: This line of wood brings the look and feel of an antique reclaimed floor and combines it with modern performance features of a 21st-century FSC-certified engineered floor. Each Castle Combe plank evokes a character as timeless as the English village for which it is named.
Navarre Oiled Floors: The natural oiled oak floors in this collection become more beautiful with time and use. Navarre isn't finished with conventional polyurethanes, but rather with natural oils that enhance the grain and character of the wood.
---
Visit the USFloors website:
www.usfloorsllc.com