Serving Upstate NY—VT—MA • For selections & prices, CALL or EMAIL US
Green River Lumber
New England Hardwood Flooring
About the Company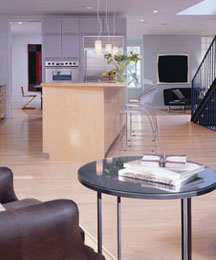 Green River Lumber was founded by Will and Peter Barrett in 1974 along the Green River in Berkshire County in the northwestern corner of Massachusetts. In 1981 they began their hardwood flooring manufacturing operation.
Green River believes strongly in selective logging to ensure the stability of the northeastern forests from which they harvest their products. They pride themselves on protecting the sustainability of the timberlands for generations to come.
Wood Flooring Products
Green River Lumber specializes in the sale of northeastern wood flooring products for both residential and commercial applications. The company offers some of the most consistent-quality hardwoods. This high standard has not gone unnoticed in the industry either — Green River has made a name for itself by holding true to their vision of maintaining the highest standards of grading and quality.
Green River offers 2¼″, 3″, 4″, and 5″ width boards, varying in length from 12″ to 7′, and having a thickness of 25/32″.
Some of the species they offer include:
American Cherry (clear and select grades)
Hickory (select, better, and natural grades)
Maple (first, select, and natural grades)
Red Birch (clear and select grades)