Serving Upstate NY—VT—MA • For selections & prices, CALL or EMAIL US
Mullican Flooring®
From the Heart of the Appalachians — to Your Home
About the Company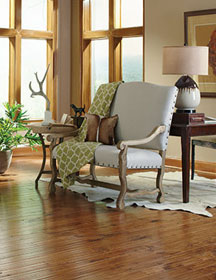 Since its founding in 1985, Mullican Flooring has prided itself on creating some of the highest-quality hardwood flooring in the world. The company's founders knew that the combination of precision milling, advanced kiln-drying techniques, and the most demanding quality control would result in products that would be unmatched by its competitors. This emphasis on excellence has remained the core of Mullican Flooring's mission, while environmentally sound practices have become equally significant.
Mullican's process of making fine hardwood flooring starts in the Appalachian Mountains of the eastern United States, which are well known for their prime, slow-growing hardwoods. After harvesting, the lumber is separated by species and transported to one of Mullican's four manufacturing facilities (located in Virginia, West Virginia, New York, and the company's headquarters in Johnson City, Tennessee). Each of these facilities features state-of-the-art machinery, reducing both labor costs and time, while enhancing the overall product.
All of Mullican's manufacturing facilities holds the Forest Stewardship Council (FSC) Chain-of-Custody certification and meet the FSC standards of environmentally friendly forestry.
Wood Flooring Products
Each piece of lumber is processed to a uniform thickness prior to stacking, with sticks placed every 12 inches to separate pieces to ensure that the boards remain straight and unaltered in shape. The most efficient kiln-drying process in the industry is used to maximize stability and minimize movement of the wood during the warm and cold seasons. Each piece of wood is automatically checked by an in-line moisture meter.
Mullican's experienced professional graders inspect every inch of the flooring during each step of the manufacturing process. Other specialists make sure the moisture content and milling are always consistent. As a result, the milling quality and grade of Mullican Flooring's products remain consistently high.
All of Mullican's prefinished and unfinished solid flooring is produced in the United States. With intense oversight from Mullican's quality control engineers, the processes at all production sites adhere to current regulatory and sustainability standards.
Mullican features a complete line of prefinished solid flooring that includes oak, maple, cherry, walnut, hickory, and beech species. The prefinished selections also offer character-grade options, highlighting the knots, color variations, and mineral streaks that naturally appear in the wood. Additional options include hand-sculpted and wire-brushed products for a more unique, customized look.
Mullican offers many widths in both its unfinished and prefinished solid flooring, including 2¼″, 3″, 4″, 5″, and 6″ options, along with a selection of exotic species.
---
Visit the Mullican Flooring website:
www.mullicanflooring.com