Serving Upstate NY—VT—MA • For selections & prices, CALL or EMAIL US
Kährs
Floors Created by Nature
About the Company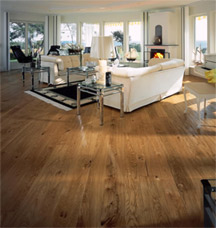 Experience is the best innovator. With more than 150 years in the business, Kährs is one of the oldest manufacturers of wood floors in the world. It is also one of the most innovative.
In 1941, Gustaf Kähr, grandchild of the company's founder, was granted a patent for his multi-layer engineered parquet board. In the 1960s they began offering factory-prefinished floorboards. And in 2000 they introduced the world's first, and only, glueless "woodloc-joint" parquet floor.
Kährs is still located in the town of Nybro, deep in the heart of a Swedish forest, where the company was founded in 1857. The wood knowledge they have accumulated over the years has been passed down from generation to generation, and they are constantly trying to find ways to make their floors even better looking, stronger, easier to install, and more sustainable.
People all over the world appreciate the result. Today, Kährs floors can be found in homes, offices, shops, hotels, concert halls, theaters, and sports arenas from Europe and Asia to the Americas.
Wood Flooring Products
An environmentally conscientious manufacturer, Kährs makes efforts to ensure the long-term stability of the forests from which they obtain their materials. They manage their forests by selectively cutting trees and planting new ones in their place.
Kährs offers a large line of prefinished exotic and domestic hardwood boards that are affordable, pleasing to the eye, and durable. Some of the species they offer include:
Ash
Beech
Brazilian Cherry
Cherry
European Maple
Hard Maple
Hickory
Jarrah
Maple
Red Oak
Walnut
White Oak
---
Visit the Kährs website:
www.kahrs.com/en-US/Consumer/