Serving Upstate NY—VT—MA • For selections & prices, CALL or EMAIL US
Muskoka Prefinished Hardwood Flooring®
Bringing the Forest to the Floor
About the Company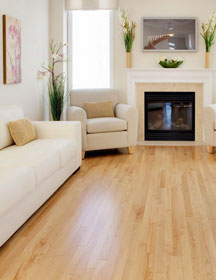 Set in the granite rocks of the Canadian shield, the Muskoka region in northern Ontario is renowned for its thriving hardwood forests. Since 1903, when Tembec began crafting Muskoka hardwood floors, they've known how important it is to preserve the beauty of the land and its resources. Muskoka is actively involved in managing the forests from which their hardwood comes, harvesting trees according to strict principles that respect the forest ecosystem and protect wildlife. They oversee the manufacturing process every step of the way, from the forest all the way to the floor. They are the first Canadian flooring manufacturer to earn Forest Stewardship Council certification for sustainable foresty practices.
As a leader in the production of high-quality hardwood flooring, the Muskoka team is committed to achieving the highest manufacturing standards to provide a beautiful prefinished floor that will be enjoyed for a lifetime.
Wood Flooring Products
Muskoka offers a range of versatile domestic and exotic flooring from which to choose.
The solid, prefinished planks of their Gallery Collection — where classic hardwood meets precision machining — is perfect for main and second floors.
Their Architectural Collection offers the flexibility of a thinner, highly stable engineered floor with all the beauty of a real wood floor — ideal for condos, basements, or anywhere else in your home!
Also suitable for any area of your home or condo, Muskoka's Solid Sawn & Hand Sculpted Collection provides the flexibility of engineered hardwood with the durability of solid flooring.
Finally, for any area of your house or condominium, their Northern Solid Sawn Collection represents the next generation of structured hardwood flooring, available in smooth, wire-brushed, and etched textures.
Some of the species they offer include:
Ash
Maple
Hickory
Black Walnut
Red Oak
White Oak
Brazilian Cherry
Tigerwood
---
Visit the Muskoka website:
www.muskokaflooring.com