Serving Upstate NY—VT—MA • For selections & prices, CALL or EMAIL US
Siberian Floors
Engineered Elegance from the Heart of Russia
About the Company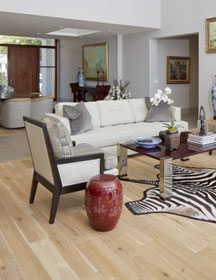 Since 1997, Siberian Floors has manufactured exceptional wide-plank flooring worthy of a lifetime of enjoyment. Perfect for casual or formal décor, the warmth and beauty of Siberian Floors transcends time. From the old-world charm of distressed flooring to the elegance of rift & quartered white oak, Siberian Floors are precision-milled and crafted with a hardwax oil factory finish that enhances the wood's natural character and provides a durable finish that seals and protects.
Siberian Floors are milled to exacting standards and prefinished at their state-of-art manufacturing facility outside Moscow, Russia.
The company promotes and supports sustainable forest practices, harvesting trees from well-managed forests in Siberia, the Kavkaz Mountains, and Central Russia. Following the principles of selective timber harvesting, minimum diameters for each tree are specified for logging extraction. Selective harvesting ultimately produces the highest quality lumber while promoting natural reforestation.
Wood Flooring Products
Siberian Floors offers three grades of wood flooring:
Rustic grade shows wide color variation with knotting and natural imperfections for added character. The wood can be distressed and fumed to create an antique look.
Prime grade is uniform in appearance with limited character marks.
Rift & Quartered grade has clean, straight, vertical grain patterns.
Their engineered flooring products are designed for nail-down construction. Distressed appearances are also available in select varieties.
Some of the species they offer include:
Beech
Siberian Larch
White Ash
White Oak
White Pine
---
Visit the Siberian Floors website:
www.siberianfloors.com