Serving Upstate NY—VT—MA • For selections & prices, CALL or EMAIL US
Andiroba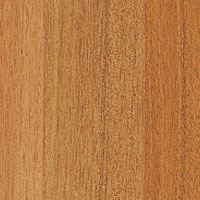 Wood Flooring Species
Scientific Name:
Carapa guianensis
Other Names and Species:
Bateo
Carapa
Crabwood
Crappo
Figueroa
Masabalo
Royal Mahogany
Tangere
Origin:
Central and Latin America
Appearance:
The sapwood of andiroba is pink when freshly cut but quickly turns to a pale grayish-brown after exposure. The heartwood is reddish brown when freshly cut and dulls slightly in shade with age. The species has a straight and sometimes interlocked grain and is medium to somewhat coarse in texture.
Properties:
Andiroba is reported to have no odor, dries easily, and has excellent dimensional stability characteristics.
Janka Hardness: 1220
As a flooring option, andiroba is a hard and durable wood. This species is almost thirty-six percent harder than cedar, is just under one percent softer than either movingui or heart pine, it is roughly ninety-four percent as hard as red oak, roughly eighty-four percent as hard as hard maple, and is about two-thirds as hard as either hickory or pecan.
Workability:
Andiroba is relatively easy to cut and shows only slight dulling effects on tools. The wood has a tendency to split under nailing, however, making pre-boring a necessity. Screws hold well with andiroba flooring. This species is reported to take stain and polish well.
Principal Uses:
Some of andiroba's uses include interior construction, cabinetry, veneers, furniture, and stairworks.
---
Learn more about available grades of
Royal Mahogany hardwood flooring »